I don't have the original Long EZ instrument panel pictures anymore. The first instrument panel in the Long EZ was very old looking. There were car/automotive instruments. A large 3.125 mechanical tachometer, the Terra Nav/Com and Narco AT50 transponder with very outdated old gyros.
The second panel on the left was installed in 2002. I purchased the Grand Rapids Technologies EIS unit (Digital Engine Monitor), Narco AT 150 Transponder, Garmin XL 250 GPS , NavAid autopilot, marker beacon from RST Engineering and installed the fully functional control stick on the right. That was a lot of work considering that it looked like a spaghetti factory behind the panel
The instrument panel on the right is what the Long EZ had in it up until last week (April 17th 08). I updated it in 2003, or 2004 with a King KX 125 Nav/Com, Narco Nav-122 glide slope indicator, Softcomm Stereo Intercom system, Electric front gear motor, electric speed brake and a new encoding altimeter. This panel was a very capable VFR and IFR cluster of instruments. 2 nav's, 2 com's, 1 moving map GPS, Marker beacon, glide slope and localizer plus the autopilot coupled to all the nav radios and GPS.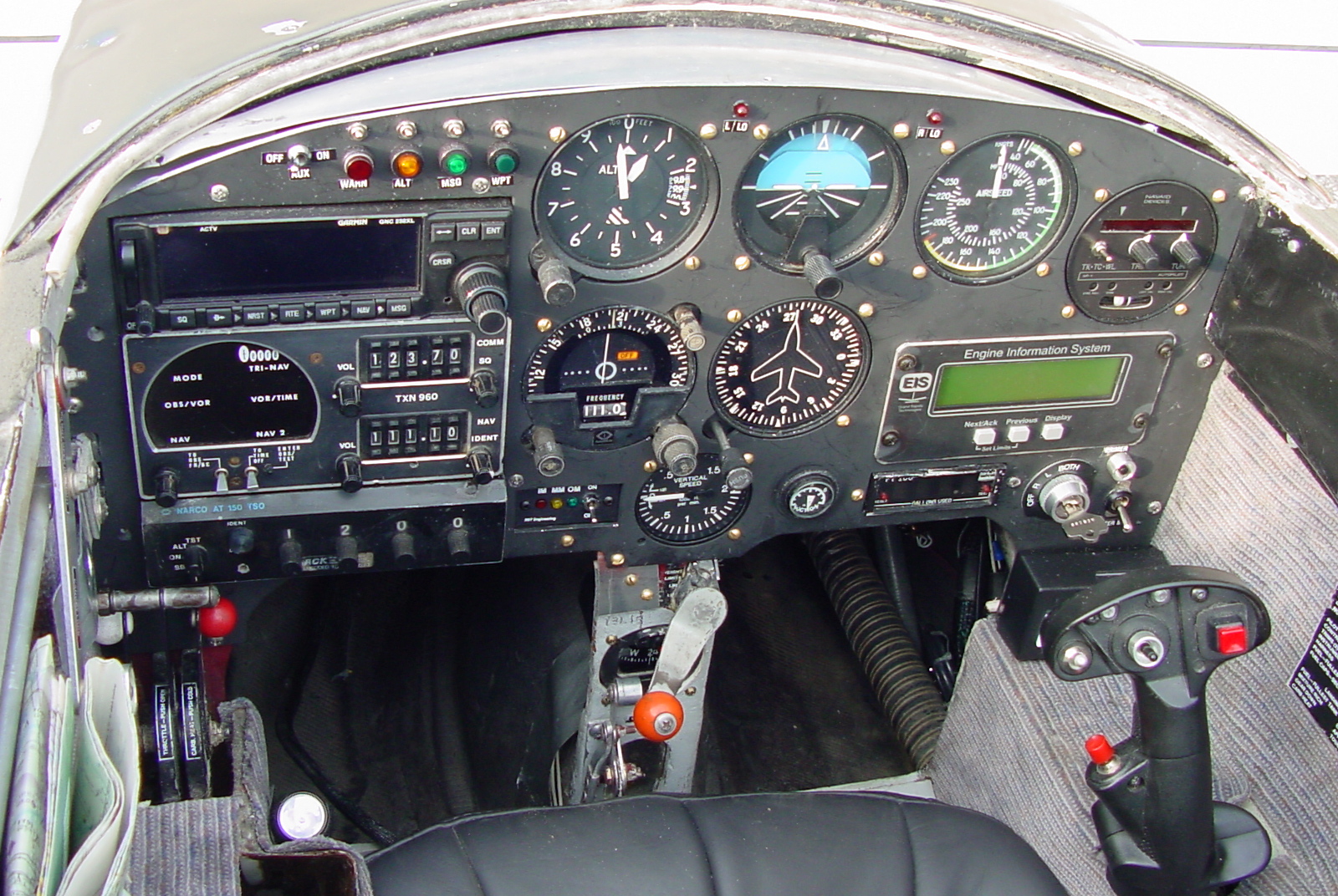 Your looking at the old skeleton panel that was just removed on the lower left (same as upper right). The panel on the lower right is the newly cut and finished panel that will support the Grand Rapids Technologies EFIS and Lowrance 2000c Moving Air map GPS. In addition, it will have a new Trio autopilot. I retired the old NavAid to eBay along with almost every flight instrument. The GRT EIS (Engine Monitor) will be behind the panel hidden from view. It will act as a feeder unit for the new Grand Rapids Technology EFIS (HS Horizon Series). I'll be able to monitor all engine information at the bottom of the PDF display.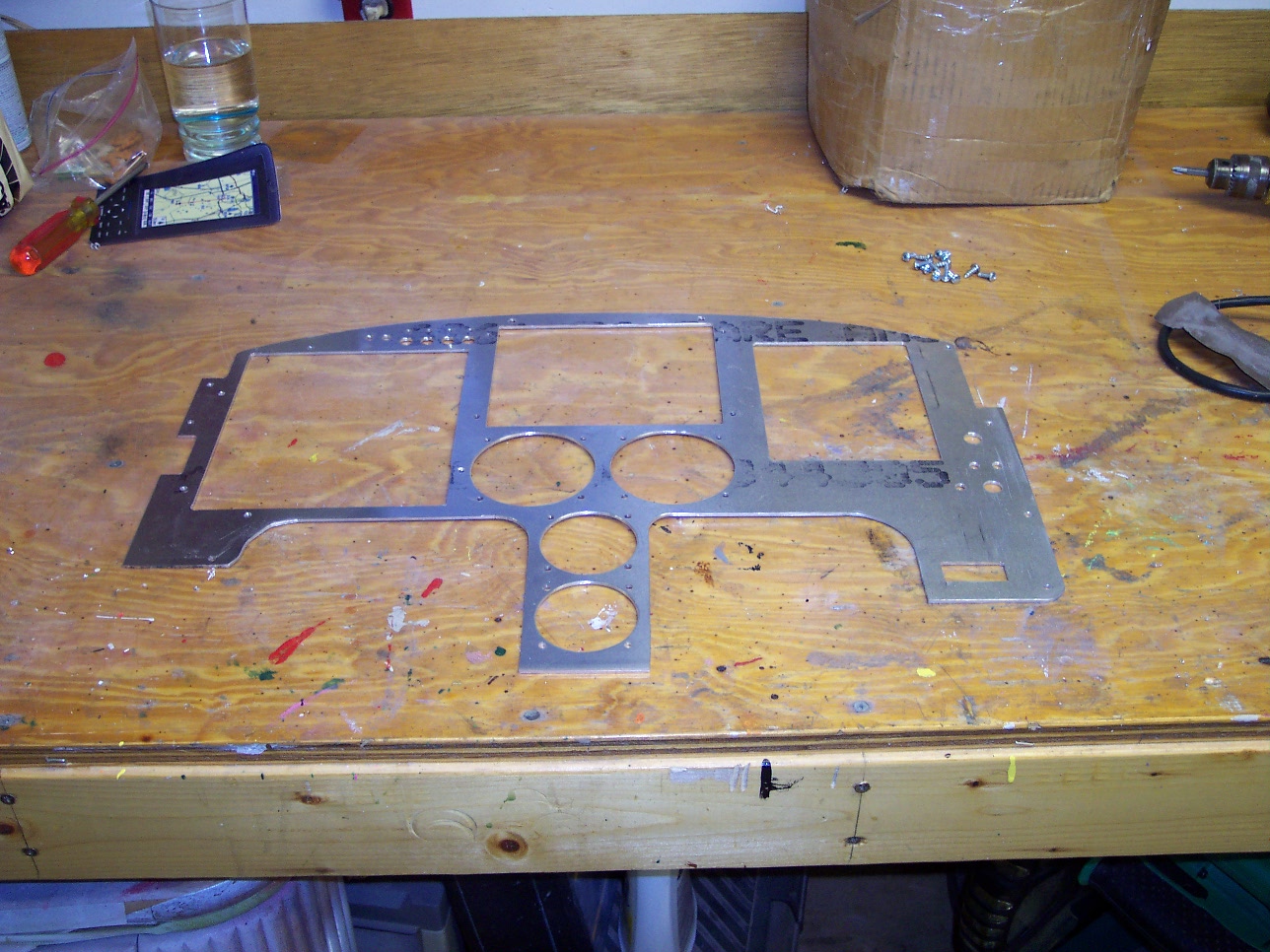 I painted the last Long EZ Instrument panel flat black with a premium paint. However, after a few years you can see that the paint just wore off and exposed the aluminum finish. I wanted a panel that would hold up this time around. I first called my buddy and asked if he could powder coat it. He wasn't able to get it done in the time frame I needed. I ended up going to an anodizing shop near my home and asking them to anodize it Flat Black. They said NO PROBLEM, I could pick it up in a couple of days. The more I think about it the more I like the idea of anodizing the panel better than powder coat.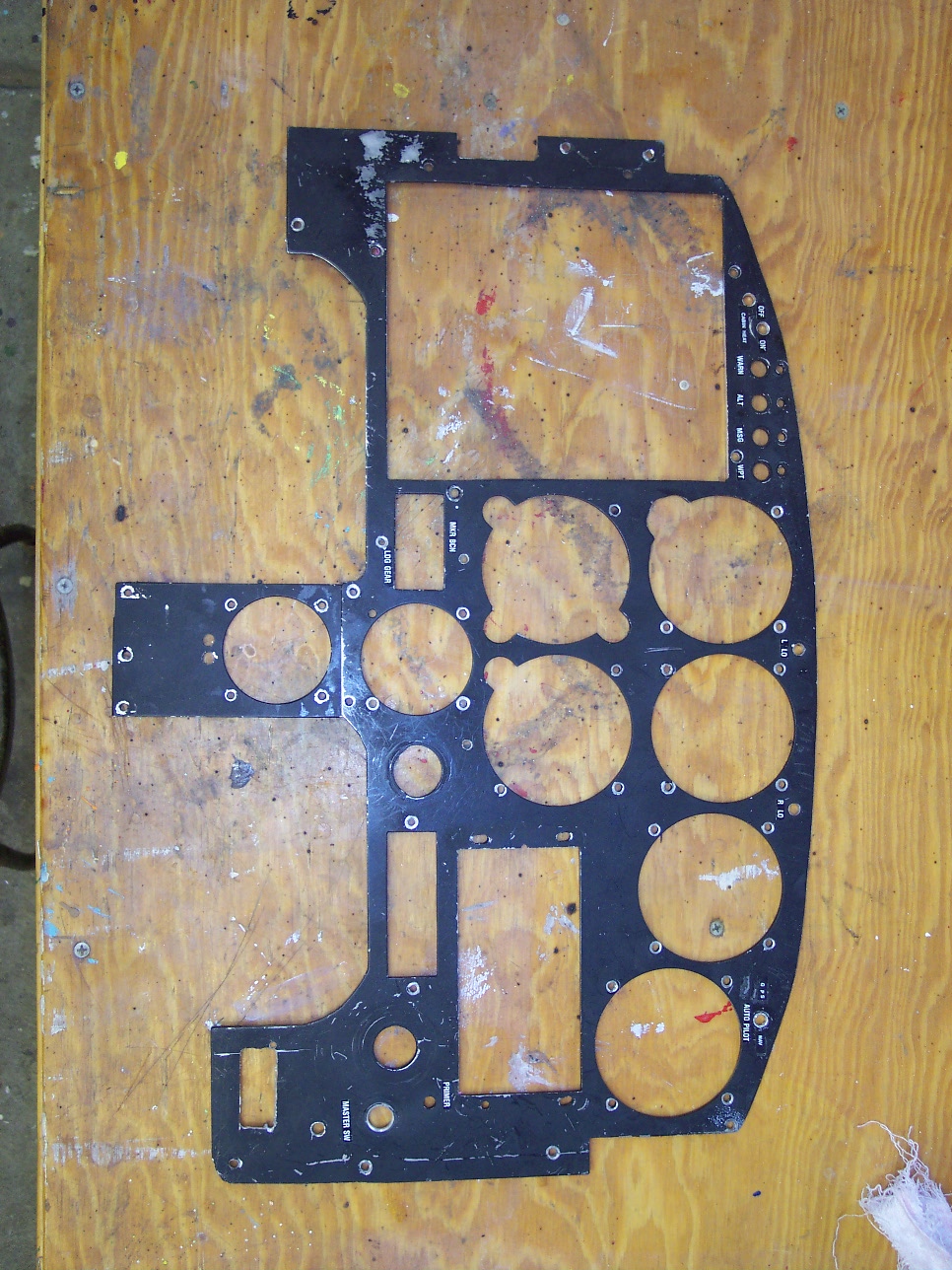 The panel on the upper left (black) was cut out on a preprogrammed CNC milling machine. The panel I just cut out on the right (silver) was done on my milling machine by hand. I used the die type hole punch to knock out the 2.25 and 3.125 round instrument holes. I thought about the fly cutter hole making tool but that has a tendency to break the bit and sometimes rip aluminum from the cut rather than slice it. This could have been done with a jig saw and a file cleaning up all the edges from the saw blade. That is exactly how I made the first instrument panel for the long EZ.
During the planning stage I wanted to leave enough space on the lower right side of the new instrument panel to install a Trio altitude hold control next year. I also planned on retiring the old AT 150 Narco Transponder and going with a new Narco Digital AT 165R Transponder. The next item to go will be the King KX 125 Nav/Com. I'm installing a Garmin SL-30 Nav/Com in its place. I think I'll be done after that, at least for 4 or 5 years, I hope.
I don't care what anyone says, it hurts to see your aircraft looking like this. When I removed the instruments and panel I cut all the tie-straps to the wire bundles so I could pull out the circuits that would no longer be used. I believe that too many people leave in the old circuits and it just becomes an unmanageable rats nest for the new owner or for the next upgrade. I also need to rout all the new circuits to the new electronic components and didn't want to contend with loose dead ended wires. Plus I wanted to relocate the intercom, landing gear switch, ignition switch 122 Nav head and Trio autopilot. The two orange Odessey batteries setting in the canard opening are just for ballast to keep the nose on the ground until I finish the work..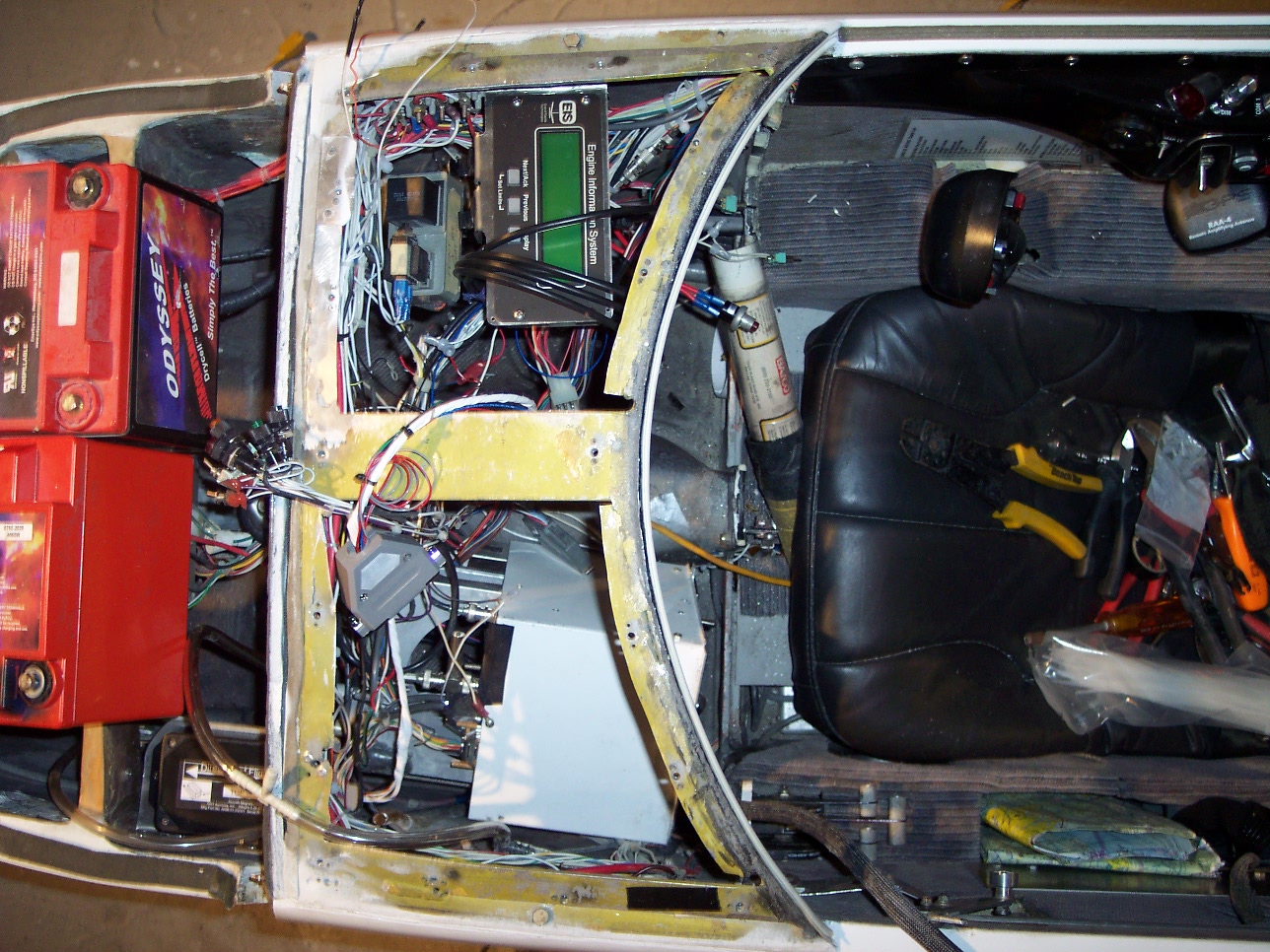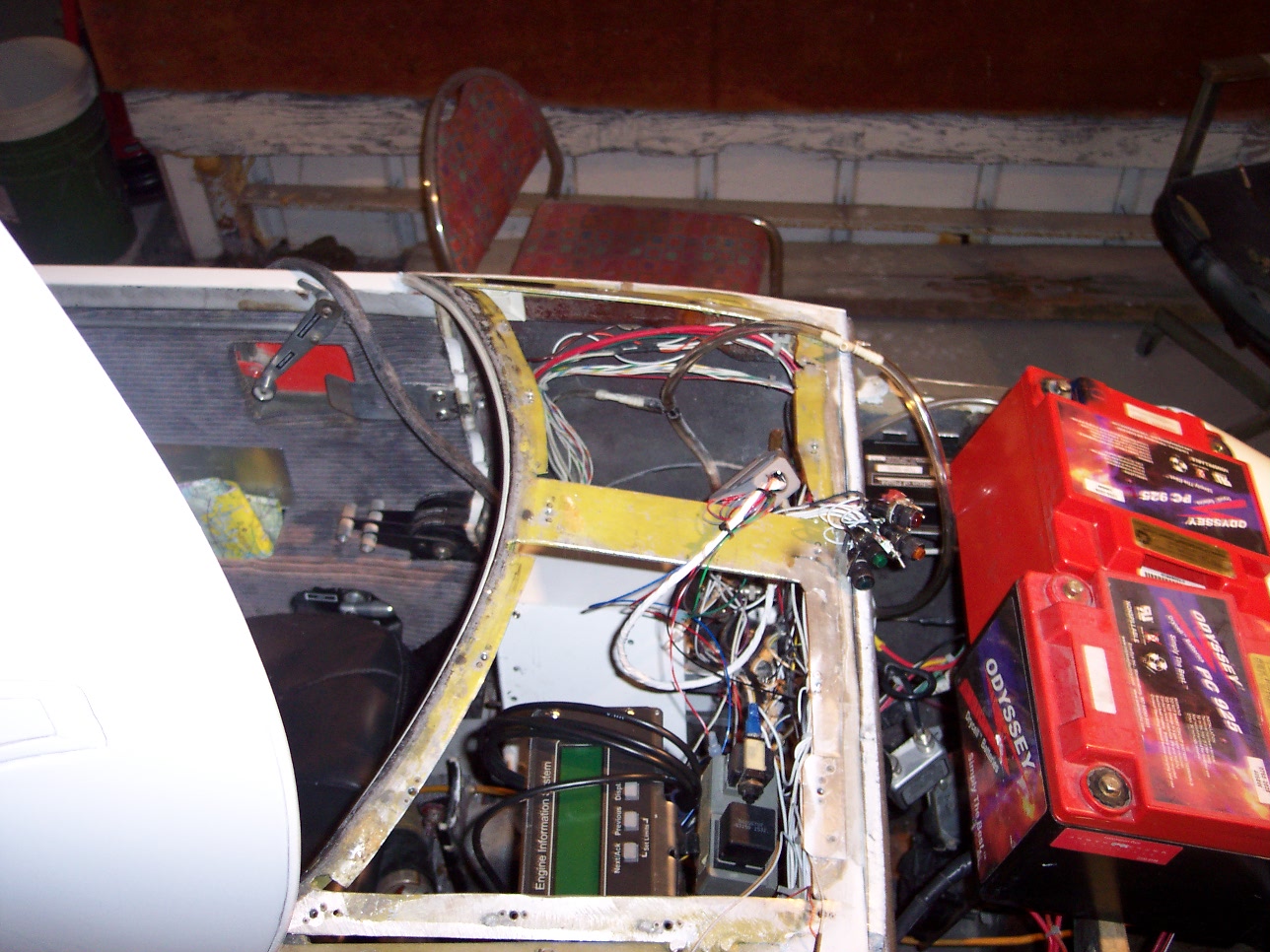 You can see the Digital Engine Monitor mounted facing up. It has the GPS antenna wire wrapped around it at the moment. I needed to mount the unit in a place that would allow me access if required to set parameters and make adjustments if necessary. I can only access it if I remove the instrument cover. The cover bolts onto a stiffening aluminum frame to make up for the lack of fiberglass structure.
Finally I have the panel in place and a few instruments in it. I picked the panel up from the anodizing shop at lunch. The price was $80.00 I didn't think that it was that bad considering it was a one-off part and had to be done independent of the other parts they were doing in other colors. For those of you that want any aluminum parts anodized the owner said have them call, send it to him and he'll take care of it. They anodize in many cool colors to include polishing and clear. Mr. Nichols Polishing & Anodizing Inc. 12139 Woodbine, Redford, Michigan. 48239. (313-538-3470) Rob Beck.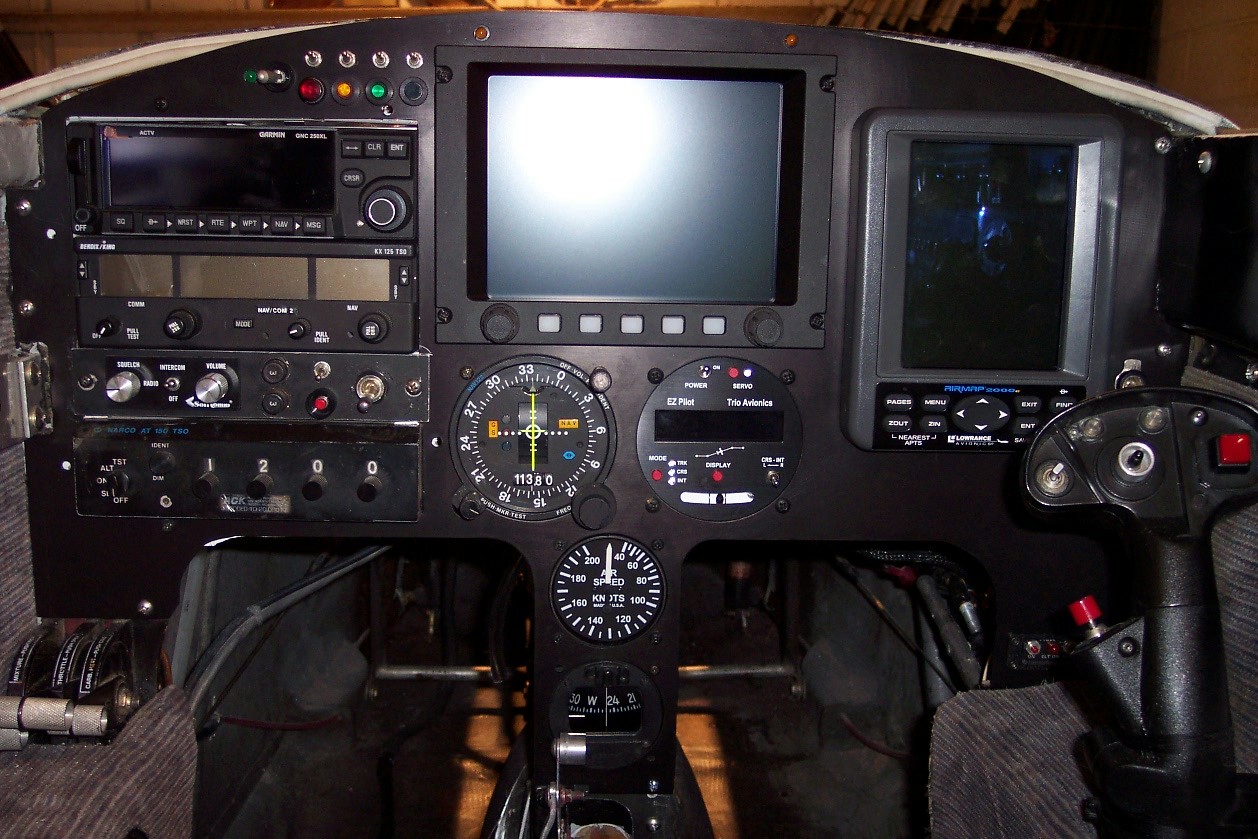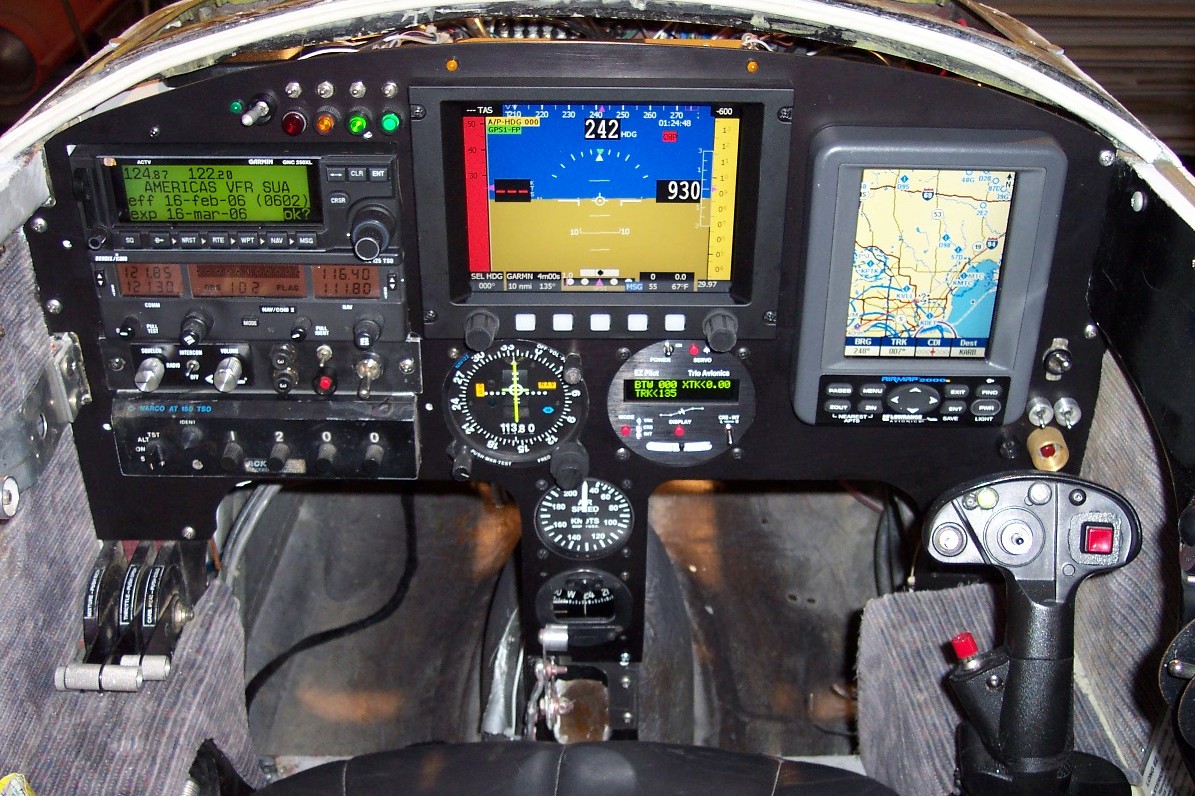 Well, the picture on the top was just after all the wires were connected and routed. I hooked the battery up again and wasn't sure what would work and what wouldn't. You never know when your dealing with hundreds of circuits and inter connects. The picture on the bottom was when I turned on the switches and pushed in the circuit breakers. Like a Christmas Tree after hours of decoration and attention to detail you can't wait to see what it looks like when you light it up!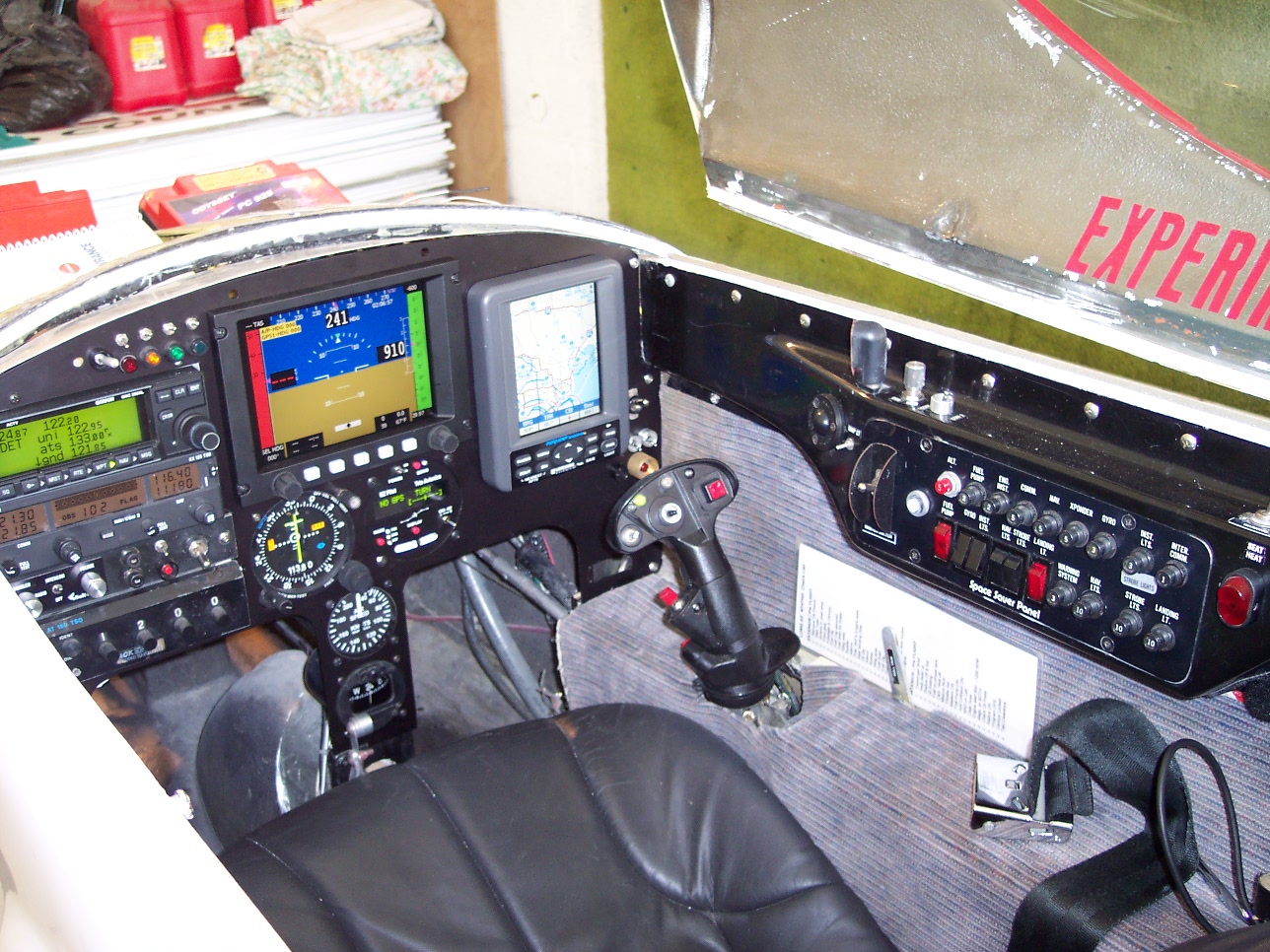 Even in the bright sunlight you can read the displays. That was a concern I had. However, as you can see by the picture the displays can be seen without issue. The bottom picture of the EFIS has the camera flash reflecting off it and the 2000c.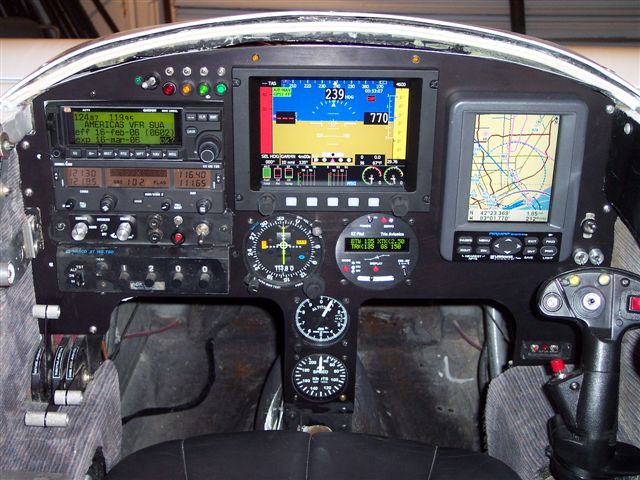 This is the 3D drivers view. It's going to take some time to get use to the Grand Rapids EFIS and moving map. I've been scanning the steam gages since I was trained as a pilot in the Army. The other pilots that I've spoken to about this unit all claim that once you get use to it you'll never want to fly the old 6 pack of steam gages again. I have to admit, it does look a little Star-Wars. Now if I could only figure out how to use the force.
On either side of the EFIS just above it you'll see to little yellow looking LED's. Those are the Left and Right Fuel LOW warning lamps. They start to glow once the fuel in either tank reaches 5 gallons or less. The 5 switches and lights at the upper left corner ar Cabin heat blower motor and Green indicator lamp when its ON. Then a RED warning lamp with ON/OFF switch, Yellow Low voltage lamp with ON/OFF switch, Green Waypoint Lamp with ON/OFF switch, Blue Airspace Warning Lamp with ON/OFF switch. Just under the KX 125 is the Softcomm intercom, Circuit breakers, Marker beacon control and Landing gear switch. All other controls are either on the control grip or in the right panel saver control. I tried to make everything ergonomically convenient for the non flying left hand.
Completed 5/7/08. Total time from start to finish less than 40 hours including panel manufacturing and all wiring. Once you get going on the Long EZ Instrument Panel Update the project isn't so bad, but the initial instrument panel removal looks like a monstrous job until you get the instruments out and start ohming out the circuits and organizing the wiring.
Long EZ N6PC is now equipped with Dual Navs (King KX 125 & Narco Nav 122), Dual Coms (Garmin 250XL & King KX 125), Dual Moving Map GPS's (Garmin 250XL & Lowrance Airmap 2000c), Glide slope localized & marker beacon (Narco Nav 122), digital engine monitor (Grand Rapids EIS 4000), Trio EZ Pilot autopilot and a fully integrated Grand Rapids Technologies EFIS unit. Plus no more key switch. I made a brass push button switch guard for the starter button and the magneto & electronic ignition are on 2 small toggle switches along with a small switch guard on the primer button. Everything was compacted in the panel to make room for the future Altitude hold autopilot on the lower right.
P2 engine Install P3 Upper Cowl P4 Lower Cowl P5 SPL Parts P6 Flt Pics P7 More Pics P8 Bio Info
P9 Engine TBO P10 Tips & Tricks P11 Your uploads HOME PAGE
Glass cockpit in a long ez. Lowrance Airmap 2000c with Terrain navigation. Lowrance 2000c airmap installed in a Long EZ. Lowrance Airmap panel mount in a Long EZ. Long EZ panel Mount Lowrtance airmap 2000c. Panel Mount GPS (Lowrance airmap 2000c) in a Long EZ aircraft. Panel Mounted hand held GPS. Mounting a Lowrance Airmap 2000c in a panel. Panel mounting a lowrance airmap 2000c. Panel mounted Lowrance airmap 2000c. Panel Mounted hand held Lowrance airmap 2000c. Long EZ glass cockpit using GRT. New Glass cockpit in a Long EZ Aircraft. Installing A KX 125 Nav/Com in a Long EZ. Installing a Garmin XL 250 in a Long EZ. Installing a Lowrance airmap 2000c in a Long EZ. Installing a Trio EZ Pilot in a Long EZ aircraft. Instruments that make up a Glass panel include EFIS, GPS moving map and a Digital transponder. Installing an EFIS in a Long EZ aircraft. Upgrading an aircraft instrument panel. Long EZ glass panel upgrade. Long EZ glass instrument panel pictures. Long EZ instruments in a anodized black instrument panel. Grand Rapids Horizon series EFIS installed in an experimental aircraft. Long EZ aircraft updated with an Electronic Flight Information System GRT HORIZON. Making an aluminum instrument panel for an experimental aircraft. Designing an instrument panel with panel builder software. Long EZ glass panel instruments. Using an EFIS in a Long EZ aircraft. Fabricating a new instrument panel for a Rutan Long EZ aircraft. Installing a Trio Autopilot in a glass panel. Hooking a Trio Autopilot to an EFIS system. Coupling a GPS to an EFIS. Driving a Trio EZ Pilot with a Grand Rapids Technology EFIS Sport HS series. Mounting a Lowrance Airmap 2000c in a long EZ instrument panel. Coupling a Lowrance airmap 2000c to an autopilot system. Driving a Trio EZ Pilot with a Lowrance GPS airmap 2000c. Calibrating a GRT EFIS in A Long EZ aircraft. Mounting the EFIS magnetometer in a Long EZ aircraft. Fabricating a Long EZ instrument panel out of T6 aluminum. Anodizing a T6 aluminum instrument panel. Machining a T6 aluminum instrument panel. Using a hole punch on a long ez instrument panel. Installing a Narco At 150 Transponder in a Long EZ aircraft. Installing a Garmin 250 XL GPS/Com in a long EZ instrument panel. Installing a King KX 125 nav/com in a long EZ instrument panel. Installing a back-up airspeed indicator in a Long EZ aircraft. Installing a small back-up altimeter in a long EZ aircraft. Flying a Glass panel in a Long EZ aircraft. Wiring an EFIS in a Long EZ aircraft.