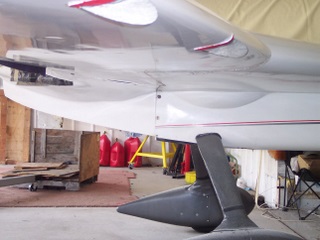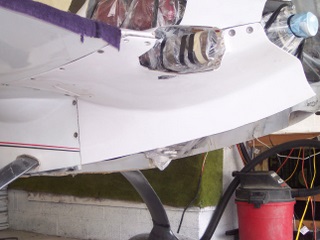 As you can see the entire bottom of the rear cowl and airplane have been cut off. I placed a tape line on the plane and started removing everything under the line. This was done to help streamline the air flow at higher speeds.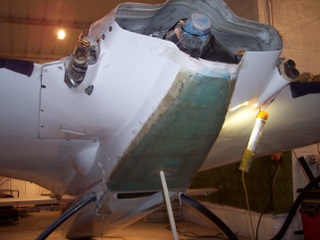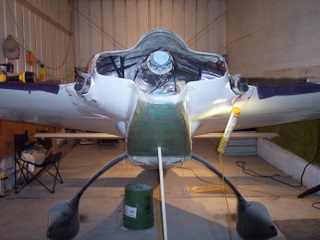 Above you'll notice that I have started filling the shape and contour with foam and fiberglass.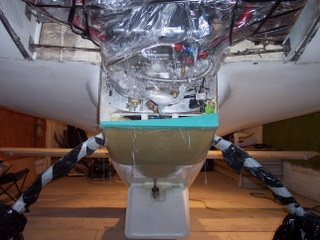 The picture on the left is what was left of he naca after being filled in. The one on the right shows the cowling being matched and mated to the new undercarriage of the airplane. Everything is roughed in and ready for grind, sand, fill and finish work.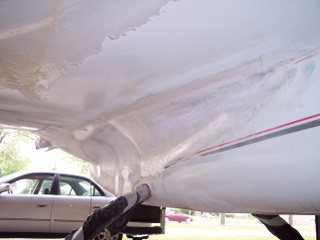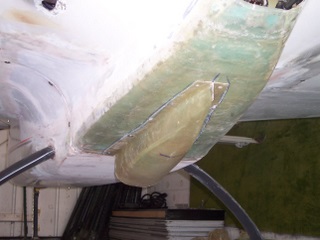 On the left, I took the fuel sump blisters and blended over the top of them to clean up the air flow under the wings. The picture on the right shows a fitted ram air scoop for intake and oil cooler air flow. You can see the fuel sump blending transition to the rear cowling.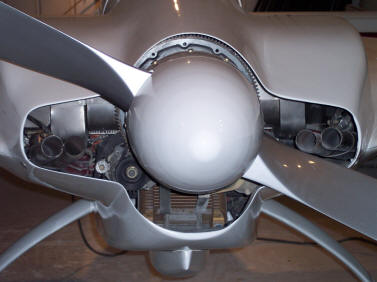 Four pipe internal exhaust system. Fuel sump blisters filled over and aerodynamic flow clean to the prop.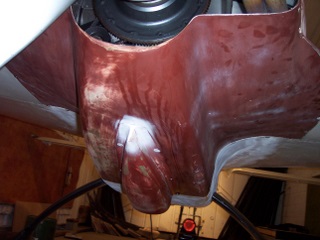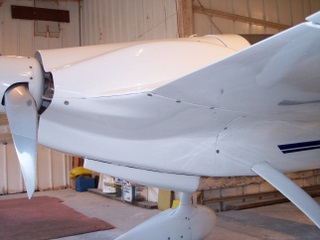 The picture on the left was lower cowling and undercarriage in primer. Picture on right was finished product many month later. It is difficult to describe the time it takes to do this work. the epoxy takes 24 hours to dry with each application. The sanding takes days and the the pre paint prep work is weeks long to get everything smooth and ready. I would not take on this big of a task again. The aircraft was down for almost a year from start of engine to finish paint.
Rutan Long EZ aircraft Aviation lists of Canard aircraft electric speed brake instaled in a long ez aircraft lower cowling modified in a long Ez aircraft Long EZ pictured in Aviation Magazine Long EZ Aviator sets altitude record Berkut 360 no long in business. Fuel sump blister blend to rear cowling
Building the Lower cowling of a Long-EZ shaving the long ez Naca Scoop away with Photos Page
P2 engine Install P3 Upper Cowl P4 Lower Cowl P5 SPL Parts P6 Flt Pics P7 More Pics P8 Bio Info
P9 Engine TBO P10 Tips & Tricks P11 Your uploads HOME PAGE