It's amazing what you can do with a mill and a lathe. It also helps to have a father that was a tool maker for 30 years. He was able to share knowledge and teach since I was old enough to hold a flashlight. His methods weren't the easiest being a strict Sicilian but they were effective.
I can't even count the number of fuel and oil manifolds I made for people. Not to mention all the spacers, knurled knobs, brackets, handles, mounts, threaded rod-end, IP's rudder pedals and even a couple of complete throttle quadrants. 90% of it for free for fellow Canard flyers. I enjoy the flying and building more when I can help others accomplish their dreams.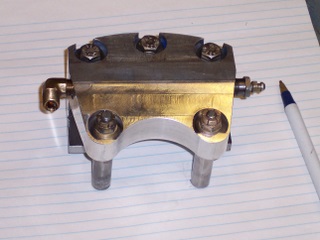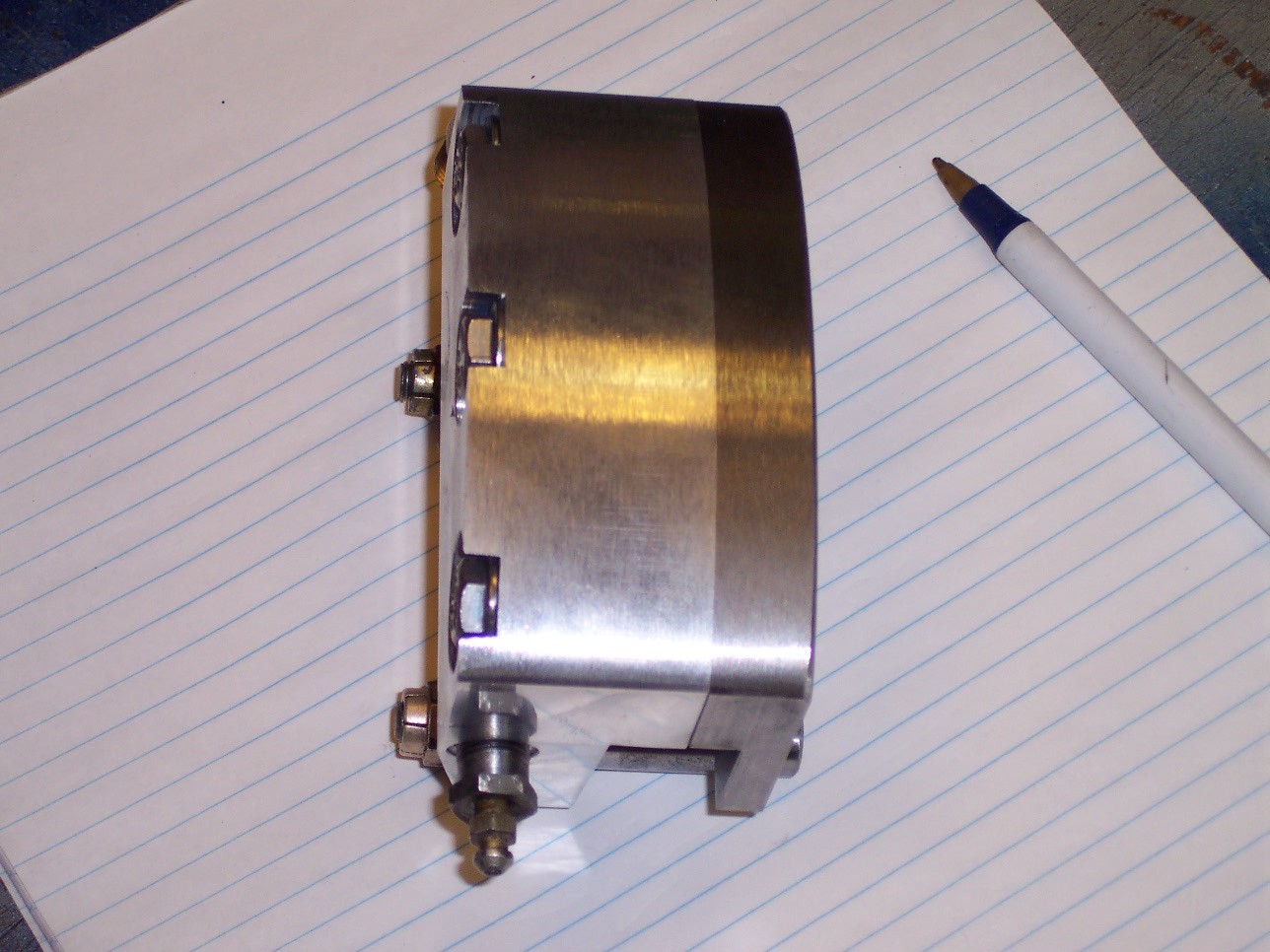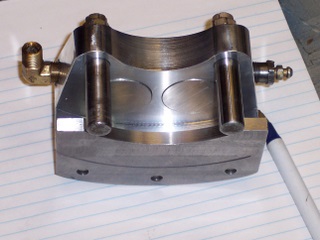 I decided to make a set of dual piston brake calipers for my Long EZ. They took some time but machined up pretty good. I made them so they would accept a larger/thicker brake pads. Machined out of solid billet aluminum for the aircraft. They have 80% more stopping power.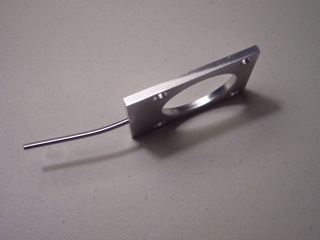 This is a vacuum plate that bolts between your ma3 or ma4 carburetor. It allows for an even vacuum sampling rather than a single cylinder pulsation sample. You get a much more dependable vacuum for Aircraft Electronic Ignition Systems or a vacuum gage. The part has a small 1/8th stainless steel tube press fit into a drill hole that exits in the edge of the circle. These parts are also on several Long EZ Airplanes.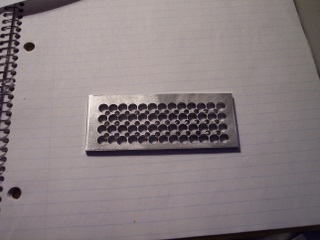 This was a special ram-air restrictor late needed to stop the disruption of fuel flow in the venturi of my aircraft. Without this plate the air would disrupt the fuel spray from the main jet and cause uneven exhaust temps in my Lycoming 0320. This part defused the pressurized flow enough to correct the issue and not effect ram-air design or top end performance of my Long EZ.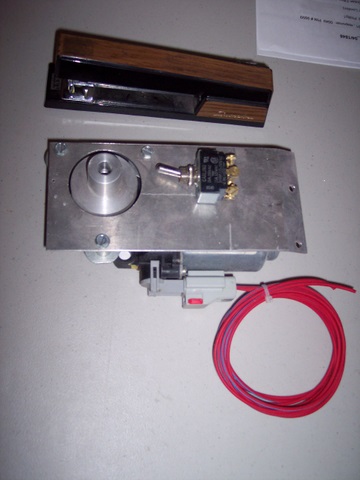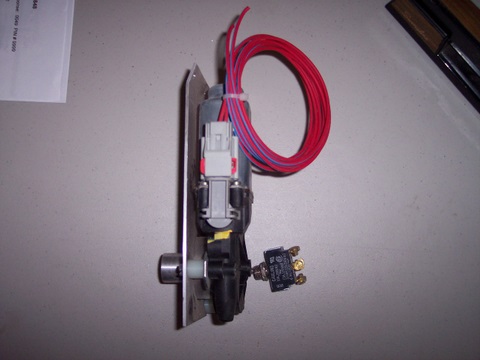 Front gear Electric retract motor. This was another part I made to replace the old manual gear crank handle on the Long EZ's and Veri EZ's front landing gear. The design was very robust and worked without issue. I have had one installed for 4 years now with no problems. It's a gear reduction unit with a high torque motor. It bolted to the F-22 bulk head and then would attach to the original crank gear system. The unit was sold with two micro switches, wiring harness, up / down switch and full illustrated installation instructions. I think I sold close to a hundred of these units. No one has called me with issues yet. The motor was good for 500,000 cycles and would operate from -30C to +115 C. It was completely weather sealed and had a internal self resetting thermal breaker in the event the gear was trapped or the limit switches were out of adjustment.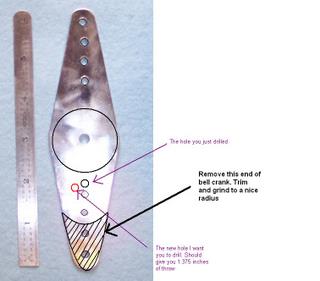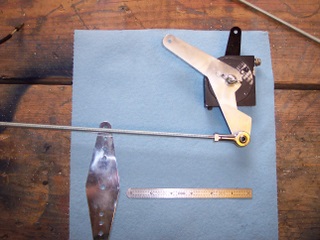 This was a throttle arm and reversing bell-crank used on Long EZ N7VN's throttle system. We went from cable design to push-pull tubes with rod ends and bell-cranks to the new throttle body system. It was a lot of work but made for a safer and a more controllable system.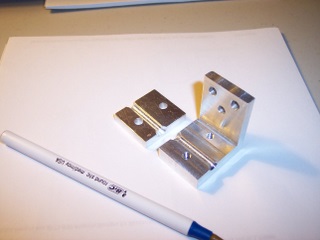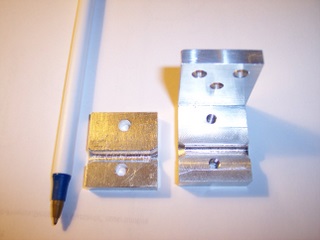 Above is a mixture cable bracket designed to hold a 2.6 mm cable housing. These little parts are fun to make. Sometimes I go way overboard like on this part, it was drilled and tapped so nuts didn't have to be used. When you have the right equipment for the job it is a pleasure making parts for friends and your own plane. I know I have made over a hundred parts between a couple of friends aircraft ranging from pitot tubes to fuel manifolds.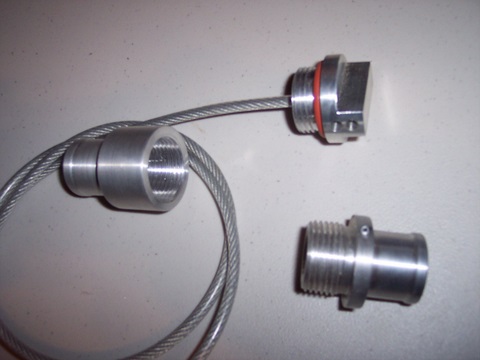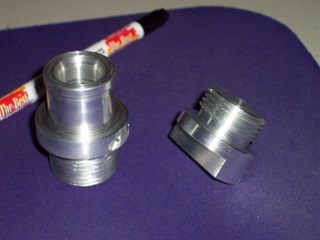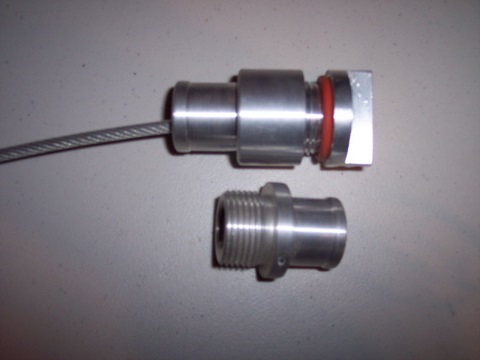 I made this Lycoming dip-stick adapter fitting for the engine and the new dipstick screw on cap. Both out of 6061 aluminum bar stock. This allowed for dipstick length and routing modifications. If your going downdraft cooling with your Long EZ aircraft the dipstick needs to be rerouted or it will interfere with the incoming left air duct. These parts allow for a 1 inch flexible rubber hose to be substituted for the standard Lycoming engine aluminum tube. The cable can be cut to the desired length and them marked with small aluminum crimp-on's at the 2, 4 , 6 and 8 quart volumes. My parts are being used on 3 Long EZ airplanes that have gone downdraft cooling.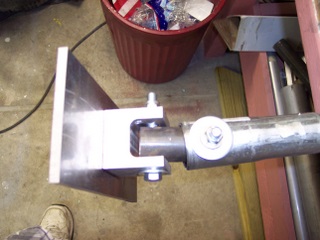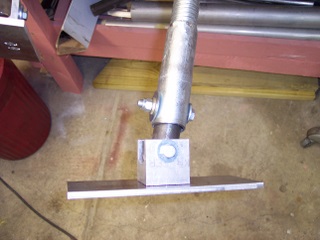 These are the tops I made for my aircraft jack-stands. I made the stands also but the tops have a multi directional 25 degree swivel for easy alignment with the wings. The part you can't see has the thrust bearings installed at the collar of the jack support and lead screw. I turned a nice aluminum base and then purchased roller thrust bearings to support the weight at the lead screw. Raising or Lowering the airplane is almost effortless. Both Gary Ernest and I have this mod to the stands.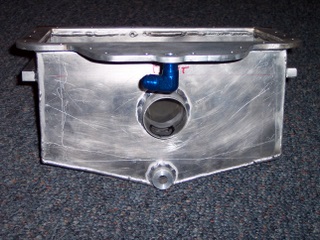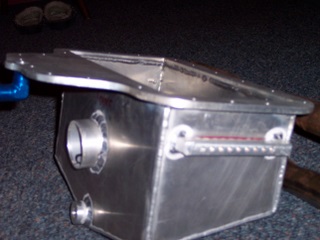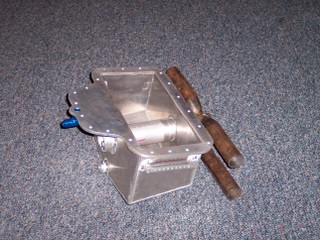 An aluminum oil pan I engineered and made for the new engine. I originally saw Gary Hertzler's and had to have one. He did an excellent job constructing his. This design was specific to fit in the lower cowl of my plane. It was cleaner and could support a fuel injection or throttle body on the front end. Pan holds 7.5 Qts, it pulls intake air through a suspended aluminum tube in the oil sump to help cool the oil. It's lighter and designed better than the factory Lycoming 0320 oil pan.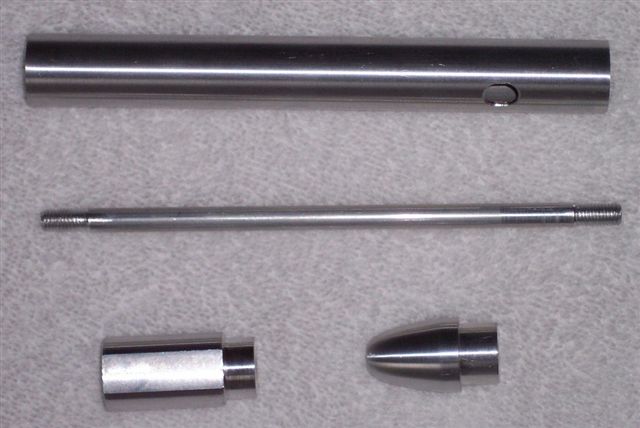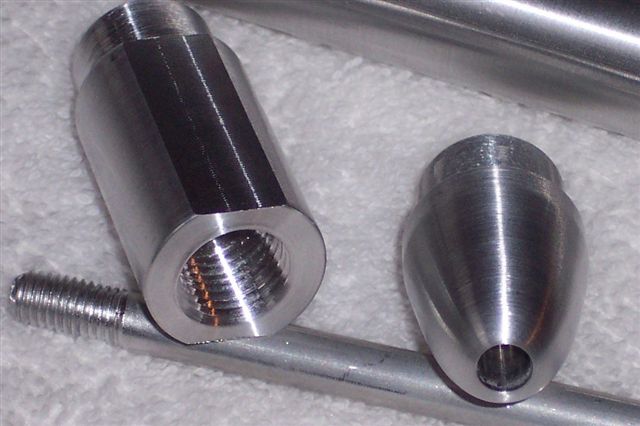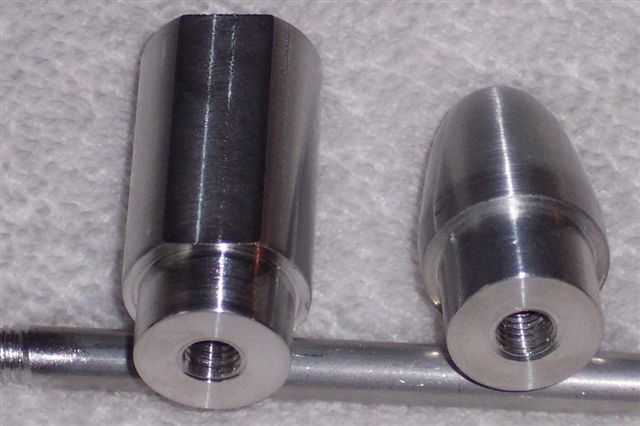 Home made heated pitot tube parts. The 6 inch long 1/4 inch OD tube is threaded 1/4-28 on each end. The 3/4 inch OD tube is also 6 inches long with a .058 wall. The tip is threaded 1/4-28 so the smaller tube will thread into it. The rear end is threaded 1/4-28 on one end and 1/4 NPT on the other for a pneumatic fitting and airspeed tube to attach. The heater element fits over the center 1/4 inch center tube. There is a small hole in the larger tube for the heater element wires to extend through. I copied this design from James Redmond (Berkut 13). He made such a nice pitot tube I couldn't help but duplicate it. James even used the standard Cessna heating element and adapted it to his tube design. He took a very expensive and important part and simplified the design so it was affordable and easy to make. Great Job Mr. Redmond.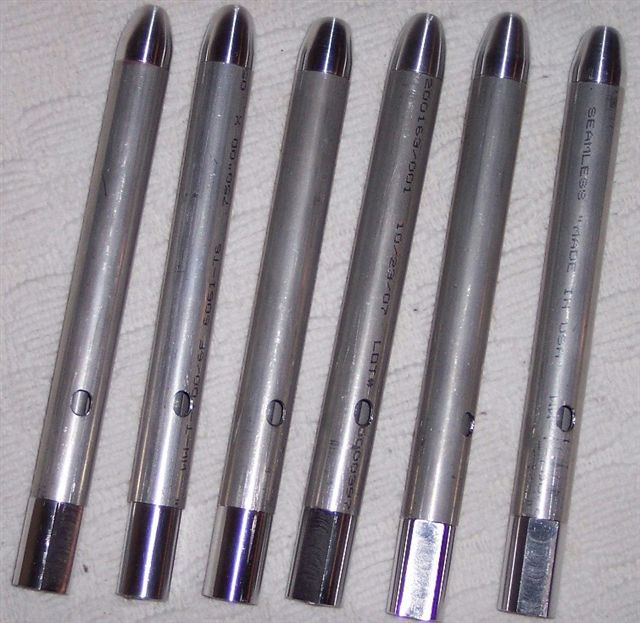 The additional 6 heated pitot tubes I made up. These were given away to good canard homes. The tube assemblies are a bit of work to make (time consuming) but I do make these when requested. They are $80.00 each. You can contact me at this link to Order pitot tube. Like anything made with machines it gets easier and requires less set-up the more parts you make.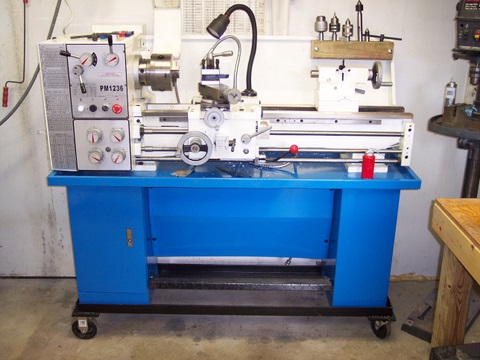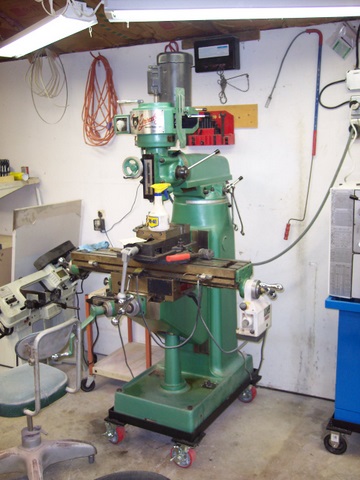 These two tools make all the difference in the world when it comes to working with metal. You still need the drill press, grinders, belt sanders, saws shears and welding equipment but the lathe and the mill can make some beautiful parts once you understand how to use the machines.
Long-EZ front gear retract electric motor. Home made heated pitot tube for a canard aircraft. Canard aircraft special parts and components. speed brakes for Long EZ cozy velocity berkut and veri ez aircraft ">
Long-EZ aircraft, Airshow. Long EZ Brakes. ICAS Aerobatics Low-Altitude Waiver. Basic Long EZ Loop Roll Wingover. Long EZ Ram air inlet. Long EZ brake calipers lycoming oil dip stick
P2 engine Install P3 Upper Cowl P4 Lower Cowl P5 SPL Parts P6 Flt Pics P7 More Pics P8 Bio Info
P9 Engine TBO P10 Tips & Tricks P11 Your uploads HOME PAGE