Attached are a few pictures that were taken while flying the east coast line of Lake Michigan with Long EZ's. N55GR and N7VN flown by Gary Ernest. In addition, there are also some great shots of a few other flying Long EZ's.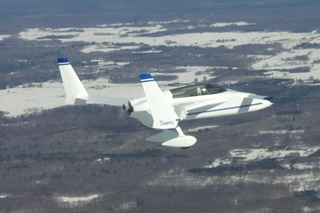 Above, N55GR around 3000 ft. This is what she looked like after the new engine, downdraft cooling, shaved undercarriage, new upper and lower cowlings, new prop and the new paint. The aircraft taking the picture is N7VN , Long EZ.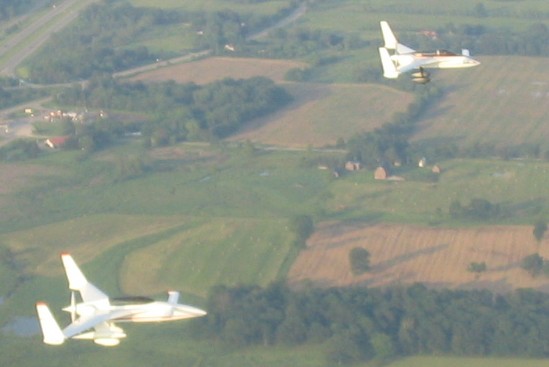 That's me up top in N55GR before the make-over. Gary Ernest at bottom in N7VN. He's about to pass me. Believe me, he's grinning ear to ear. A 3rd long EZ being flown by John Murphy took this picture over Southern Michigan.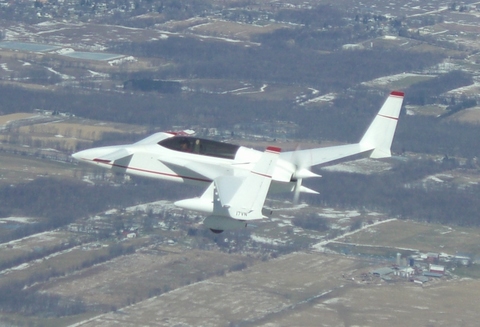 Another shot of N7VN from my bird. Always the ham. What I find funny about Gary is we could be in formation for an hour and all of a sudden I'll hear "HEY PHIL!" and all I will see is the under side of his bird as he's pointed straight up slinging off to surf a cloud. Then of course I'll hear "Hey did ya see me"! Of course my response is always the same "yep, your just kill-en me"! Gary is wonderful friend and always fun to fly with.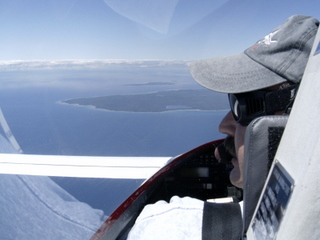 I'm driving N6PC to Beaver Island. It's directly in front, off the nose. Its time to descend out of 8500 feet, skip over the tree tops and plant the tires on that runway, then its Brakes! Brakes!! Brakes!!!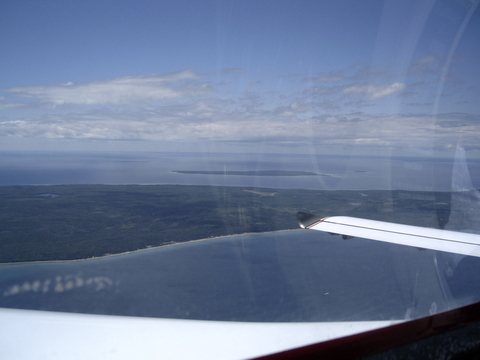 If you look close you can see Beaver Islands runway off the tip of the canard. It's that little, odd looking brown spot in the middle of all those green trees. That's Lake Michigan underneath us. The island sets about 35 miles off the western tip of Lower Michigan. Just north of Traverse City, 70 miles or so.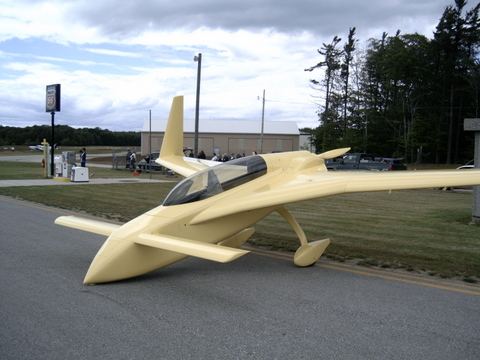 My buddy from Three Rivers MI (Craig Gearhart) parked on the island. He got there a few hours before me. I'm thinking he didn't take care of his honey-do's that morning. Craig's brother Joe helped build this plane along with an RV8, RV9, Giles and numerous other aircraft projects. You can tell by the detailed and incredible workmanship in their yellow Long EZ .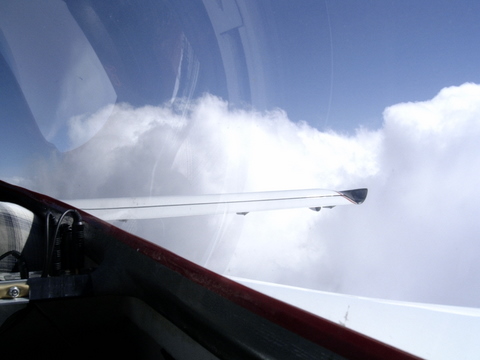 The flight home was magnificent as you could reach out and touch a cloud. Not to mention it seemed as though you could see forever in the crystal blue sky over our beautiful state.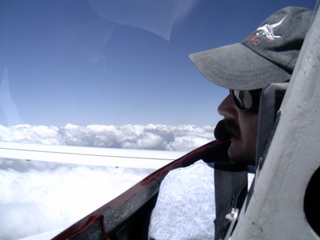 On our way home from Beaver island 11,500 ft VFR on TOP just picking our way through the tops of the clouds. Unless you have done this there is no way to describe the beauty or exhilaration as you weave amongst them like a high speed obstacle course. Most pilots call it cloud surfing. If I was wearing a fun meter the needle would be pegged out! Imagine a 3 dimensional Go-Cart at 200 mph.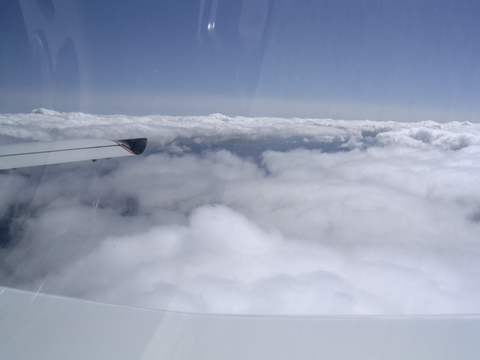 2 miles above mother earth and the world takes on a new landscape. I hope general aviation is affordable and even still, available for the next generation of young pilots. Everyone should be afforded the opportunity to experience this serenity.
This plane was built by David Lind. I can't begin to describe how nice this aircraft was regarding fit and finish. Just an incredibly beautiful and fast aircraft. When Charles Bracken owned this bird I had a chance to fly her out of Detroit City airport. It was a treat to bore holes in the sky with.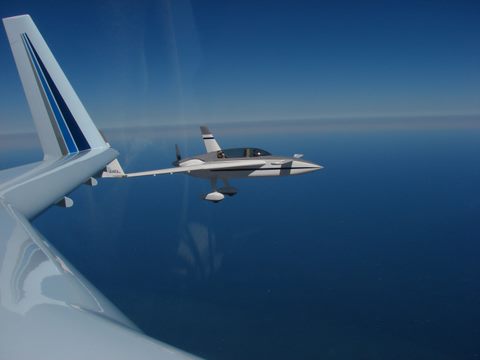 Paul Werner took this picture from his Long EZ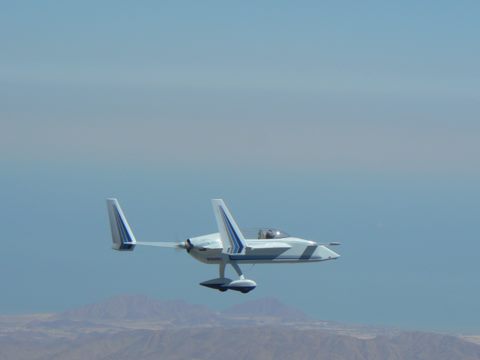 This is another beautiful aircraft built with attention to detail by Paul Werner. "Thanks for letting me post your pictures Paul".
Pictures of Long EZ aircraft. Long EZ aircraft in flight. Long EZ aircraft in Michigan. Gary Ernest flying a Long EZ aircraft. Phil Camarda flying a Long EZ aircraft. Phillip Camarda flying a Long EZ aircraft. Long EZ aircraft in Formation Flight. Long EZ aircraft Pictures. Long EZ Experimental aircraft flying over water. Long-EZ airplanes in formation flight. Homebuilt aircraft in formation. Long EZ aircraft over southern Michigan. Kitplanes magazine pictures of Long EZ Aircraft. Pictures of Long-EZ aircraft in flight over Michigan coast line and North eastern United States. Phillip Camarda flying canard aircraft N6PC. Long EZ fly in at Beaver island. Long EZ Aircraft at Beaver Island. Long EZ aircraft cloud surfing. Picture of a Long EZ Aircraft in formation. Picture of Dave Linds Long EZ aircraft.
P2 engine Install P3 Upper Cowl P4 Lower Cowl P5 SPL Parts P6 Flt Pics P7 More Pics P8 Bio Info
P9 Engine TBO P10 Tips & Tricks P11 Your uploads HOME PAGE