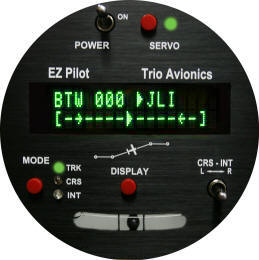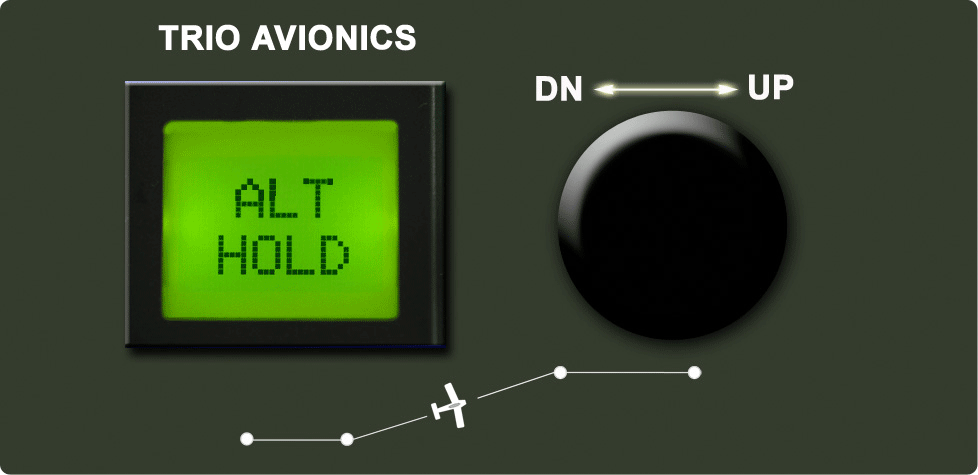 TRIO AVIONICS EZ Pilot REVIEW
I just recently installed a Trio EZ Pilot in my Long EZ aircraft. I've been using the old trusty Navaid that I purchased 9 or so years ago. Let me tell you about the Navaid before getting into the Trio autopilot. First off, The Navaid was always a nice asset to the Long EZ when flying long distances. It made the workload much easier. Allowing me to read maps, get a drink or eat a candy bar while flying. Even being able to move around and stretch a little bit was possible because the Navaid would hold a nice steady course. There were a few negative issues with the Navaid that tended to crop up once in a while. First off it wasn't able to intercept a course line with any form of grace. Sometimes it would scar the hell out of you when changing waypoints. It would steer to the course line and lock on like a train on rails but it didn't have the ability to find/locate the course line and track on top of it with subtlety. Another issue with the Navaid was that it needed to be driven with left and right analog signals (mV). One time while the Navaid was hooked up to my panel mount Garmin 250 XL the radio rebooted due to loss of power (early software glitch by Garmin). The Navaid took the long EZ and gave it full left aileron deflection instantly. This was caused by a sudden loss of analog signal. There were a few other odd glitch's with the Navaid that needed to be worked through. Depending on the radio antenna wiring and the Navaid wiring location, if you keyed up to talk the Navaid would snap the plane right or left. I remember installing new insulated circuitry and installing a diode with a signal line that would disable the Navaid during transmissions. OK, on to the Trio.
Reading about the Trio and the True Track systems I saw greater value and capability with the Trio system. It just offered more bang for the buck when you compared features, user friendliness and even aesthetics. Not to mention it's compatible with the Navaid servo motor.
I ordered the Trio EZ Pilot a week ago and was surprised to see it at my door 5 days later. The unit is very small and light. The control head is 1/3 the size of the Navaids. I headed to the hanger and installed it that evening. Installation and wiring was a snap with the pre-made jumper harness Trio sent to couple the old Navaid harness to the new Trio head (at no charge). All I had to due was rout the new RS 232 input and ground from the Garmin 250 XL panel mount. The Trio will not operate on old analog inputs, it needs digital info. After the wires were connected I couldn't wait to turn the unit on. The display was just awsome. It's like a Star Wars unit when it comes alive. Pre programmed with my name, aircraft type and N number displayed during boot-up. Then the standard information is displayed (Go to Trio's site to review all the data http://www.trioavionics.com ).
I took her for a flight the following morning and checked the operation out. It worked just as advertised. Everything that Trio states about this little units capability is true. It found, intercepted and tracked a course line while pointed 170 degrees away from it. It also did a perfect 175 degree reversal turn when the IMC reverse course procedure was initiated. In addition, it found and tracked all my waypoints with smooth turns and lots of lead time. The part that impressed me the most was when I was heading away from my home airport I programmed in the return identifier and the Trio made a perfect 15 degree angle of bank turn to the left, intercepted the 180 return course line and took me right back to the airport with a smooth turn and perfect course coupling. I ordered an EFIS from Grand Rapids at the same time I ordered the Trio. I'm looking forward to coupling the Trio and the EFIS together and let the system fly me through the boxes.
Today the weather was marginal. Visibility was under 5 miles and the ceiling was around 4000 feet. At that altitude the haze became so thick you would lose site of the ground. I climbed to 3500 ft and programmed the GPS to skirt the Class B airspace at the wingtip (they never let me go through in Detroit) and engaged the Trio EZ Pilot. The autopilot flew a perfect course, I don't think I was 50 ft off the course line. As I got closer to my destination the air got rougher (moderate turbulence) and I let the Trio fly N6PC all the way to downwind interception. The other item I like about the Trio is if you reprogram a waypoint while the Trio is tracking one already you do not feel the abrupt switch from one waypoint to another. The transition is smooth and without any surprises. In the past if I changed waypoints hit the enter key with the Navaid she would snap to the new heading. The Trio just does what its told with grace. Its makes comfortable transitions.
I give the Trio EZ Pilot a thumbs up and can say that the people at Trio Avionics delivered what they promised. I am very happy with this unit and hope it continues to serve long into the future. My next purchase will be the Trio Altitude hold system. This company seems to have a handle on thinking ahead and producing a product that is user friendly and functions like a unit costing 5 times as much. I think its great that small companies like Trio make incredible products for us to use at a fraction of the cost that S-Tech or another manufacture would charge.
Last comment I would like to make. I have dealt with hundreds of FBO's and product offices, technicians and salesmen from all sorts of companies. Only a handful made me feel as important as Trio Avionics. I had an excellent customer experience with Trio. They were friendly and answered every question I asked, even the obvious ones. The important part about my dealings with Trio is the people are sincere. They truly want to take care of you and do whatever it takes to make your purchase experience a fun and exciting one. I am sorry I missed Sun N Fun this year because I would have liked to have met these people in person. I'm hoping to make Oshkosh just to stop by the booth and say thank you in person.
Trio EZ Pilot Autopilt installed in a Long EZ Aircraft, information on 0320 Lycoming Long-EZ engine failure, long ez pre-buy experience, sharing of information between canard aircraft owners. Trio Autopilot installed in veriez, veri ez, cozy, velocity, rutan aircraft, SQ200 and Phillip Camarda.
Trio Autopilt installed in a Long EZ Aircraft, blue mountain EFIS, Trio Autopilot in Experimental Aircraft, Trio Autopilot in Rutan Long EZ, canard aircraft, Trio Autopilot in pusher aircraft, Phillip Camarda, lycoming 0320 Engine, Downdraft cooling, down draft cooling, Long-EZ electric speed brake, electric nose lift, upper & lower cowling ram air scoop, Trio Autopilot in Veri-ez, Trio Autopilot in Cozy, Trio Autopilot in Velocity, oil cooler, lycoming engines.
.